Providing Real-World Career Opportunities
For many of us, a job is more than just a livelihood; it can be vital to a sense of identity, self-worth and confidence. It's no different for adults with autism, intellectual or developmental disabilities. Employment opportunities are crucial to the transition to a more independent lifestyle. 
Bancroft's two-tiered Employment Services program helps each person further develop skills, continue education and identify employment opportunities that will empower them to live their best life. 
Each person is supported by highly trained job coaches who focus on teaching both the hard and soft skills needed for success at any job. Work opportunities are secured through partnerships with local businesses, or through Bancroft Employment Enterprises (BEE).  
Designed for individuals who are not yet ready to pursue independent employment in the community, the Transitional Employment program focuses on small-group job training and career planning.
Services are provided through partnerships with local businesses, or within Bancroft Employment Enterprises, a network of small, community based entrepreneurial endeavors that provide employment training, experience, and support.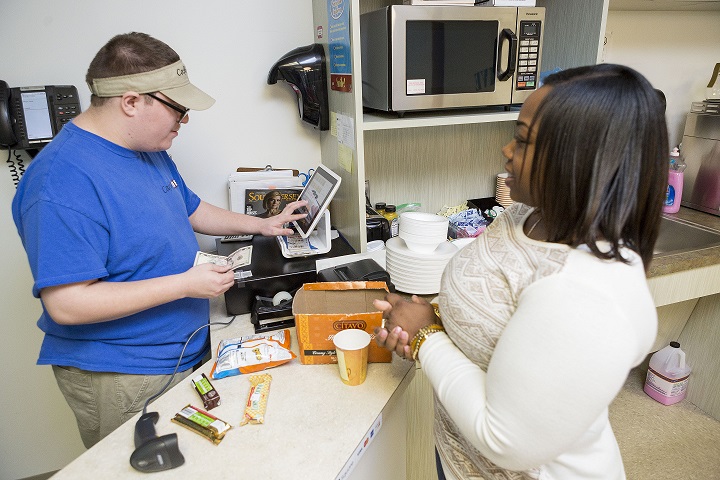 Focus on building job-specific, social and life skills
The Transitional Employment program ensures participants reach meaningful milestones toward greater independence.
Examples of task-specific skills include:
Operating a cash register

Customer service

Time management

Organizational skills

Executive functioning

Problem solving

It may also include workplace/culture integration and social skills, maintaining a schedule, navigating transportation, understanding personal space, or stress management. 
Available Opportunities Include:
Janitorial, Custodial, Commercial Office Cleaning

Grounds Maintenance

Promotional Products

Food Services

Car Wash and Detailing 

Office Support Services
Employment Specialists provide support with resume writing, interview preparation, job searching and on-the-job training for those who are ready to pursue competitive, self- or customized employment.

We assist with career planning and conduct community-based work evaluations to assess work-related skills, adaptive behaviors, interests, strengths and needs to determine the level of support needed for competitive, integrated employment.
Frequently Asked Questions
All employees are paid minimum wage or more. Not only does this create a sense of motivation, but allows Bancroft to help individuals learn how to budget and manage their finances.
It always pays to work. Individuals can work and continue to receive SSI as long as their countable income doesn't go above the SSI income limit. The threshold amount in NJ is $35,520 a year. Learn more.
Each person deserves the opportunity to do what they love – and to be successful. We work with each person to gain insight into strengths, weaknesses, likes and dislikes, to match them with a job that is both enjoyable and challenging.
As workers explore different opportunities, we further refine their skills to a specific vocation that can lead to a fulfilling career in the workforce.
The first step is to contact your Supports Coordinator to obtain a referral to Bancroft's programs.
Call 800.774.5516 to speak with an Admissions Specialist to discuss all of Bancroft's Employment Services and funding options.
Eligibility for funding for adult services is determined by the New Jersey Department of Developmental Disabilities (DDD) or the Division of Vocational Rehabilitation Services (DVRS).
Once eligibility has been determined, you or the individual seeking service may choose Bancroft as the program of choice. While most of those enrolled in Bancroft programs receive state funding for all or some of the services provided, others augment services by paying for them directly.